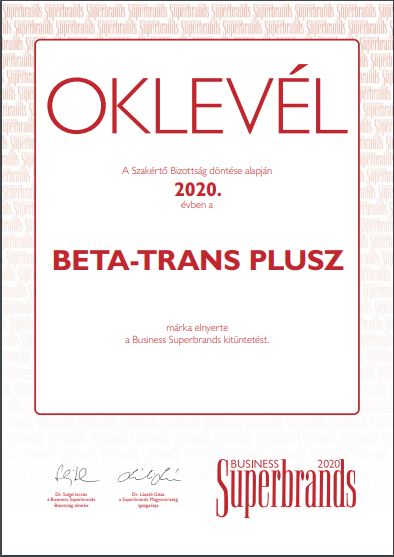 This year, for the thirteenth time, a committee of 22 independent experts met, which found Beta-Trans Plusz Kft worthwhile to get the Business Superbrands 2020 trademark.

We are proud that in 2020 Beta-Trans Plusz Kft. Won the Superbrands award for the seventh time, so we have been at the forefront of the largest and most successful domestic companies for years.

It has been twenty-five years this year that the program has been launched by marketing and communications authorities in the UK. The goal was twofold: to put outstanding brands in the spotlight and to set examples to follow. The program has become known all over the world since its launch, and today the title Superbrands is a special qualification in nearly 90 countries.

In all countries, the jury has a prominent role and responsibility, so only recognized professionals can sit on the committee. The members of the independent panel shall perform the task on a social basis.